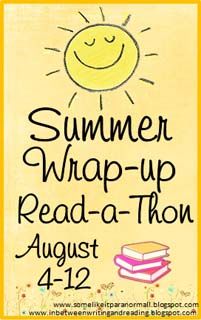 The Summer Wrap-up Read-a-Thon is hosted by
The Summer Wrap-up Read-a-Thon gives you motivation to catch on some books that you weren't able to get to over the summer. For me, there are so many to choose from. I just keep buying book after book. I have never participated in a Read-a-Thon so I am very excited about this. I decided to focus on four books to read at this time.
I will be updating my progress on
Twitter
. If you are participating in this Read-a-Thon, I would like to hear from you. It will be fun to compare notes and reviews.